Anti Bacterial Mist & Moisturise Eczema skincare set
Regular price

$53.00

Sale price

$51.00
What most people overlook when managing eczema skin.
Most broken/flaky eczema skin is teeming with bacteria and especially in Singapore in hot and humid conditions, many types of bacteria will enter broken skin. 
Manage eczema flares by misting wasabi extract skin sanitiser over skin first. Wasabi extract kills Staph. Aureus bacteria which is a common cause for eczema flares. Sanitiser also contains hyaluronic acid for instant hydration.
Skin sanitiser is effective against, Staph Aureus, E.Coli, A.niger bacterial and Influenza A virus.
If you don't manage or sanitise your skin regularly ( recommended after shower) , your skin cannot close and it cannot start to heal even it you apply loads of moisturiser to it.
Eczema skin when scratched is infected with bacteria which feeds into the vicious cycle.
Tamanu Oil contains omega 3, 6, 9 which is similar to the lipid profile of normal healthy skin. Tamanu Hemisqualane formula helps to improve dry cracked eczema prone skin , promoting a healthy skin barrier without the greasiness of an oil.

Tamanu Hemisqualane does not contain essential oils which may irritate sensitive skin.
Suitable for face, hands, body.
Set Includes 1 bottle (glass) of wasabi skin sanitiser (30ml) and 1 bottle of Tamanu Hemisqualane Oil Moisturiser ) 50ml)
Full Ingredient List

Tamanu Hemisqualane 50ml

Calophyllum Inophyllum Seed Oil ( Tamanu Oil), C13-C15 Alkane (Hemisqualane_sugarcane derived), Tocopherol Acetate (Vitamin E).

Wasabi skin sanitiser 30ml

Water, Lactobacillus/Wasabia Japonica Root Ferment Extract, Brassica Oleracea Italia ( Broccoli) Extract, Propandiol (from corn),glycerin, Scutellaria Baicalensis root extract,Lactobacillus Ferment, glycerin, Glcyrrhiza Uralensis( Licorice) Root extract, Camelia Siensis Leaf water, Cocos Nucifera ( coconut oil), Allium Sativum ( Garlic Bulb Extract), Yeast Ferment Extract, Sodium Hyaluronate, Polyglyceryl-10 Laurate (from coconut) Melaleuca Alternifolia ( Tea Tree ) Leaf Oil.
Skincare Step

After Shower, Mist wasabi sanitiser over affected area. Let the sanitiser absorb. Apply a couple of drops of Tamanu Hemisqualane. Try to apply 2x a day. Morning and Night time
Best Before

Wasabi Skin Sanitiser Best Before 09/24Tamanu Hemisqualane Best Before 12/24
Share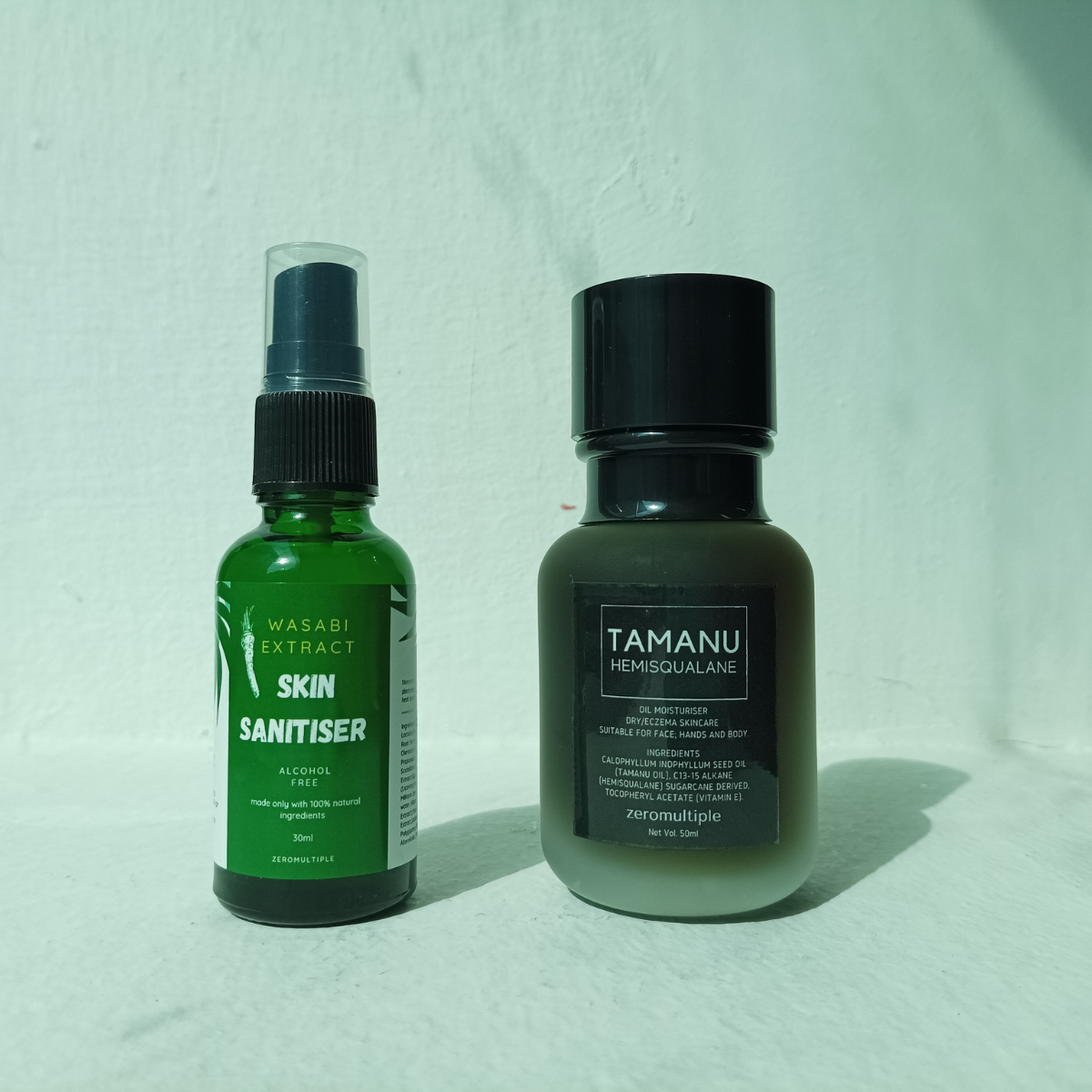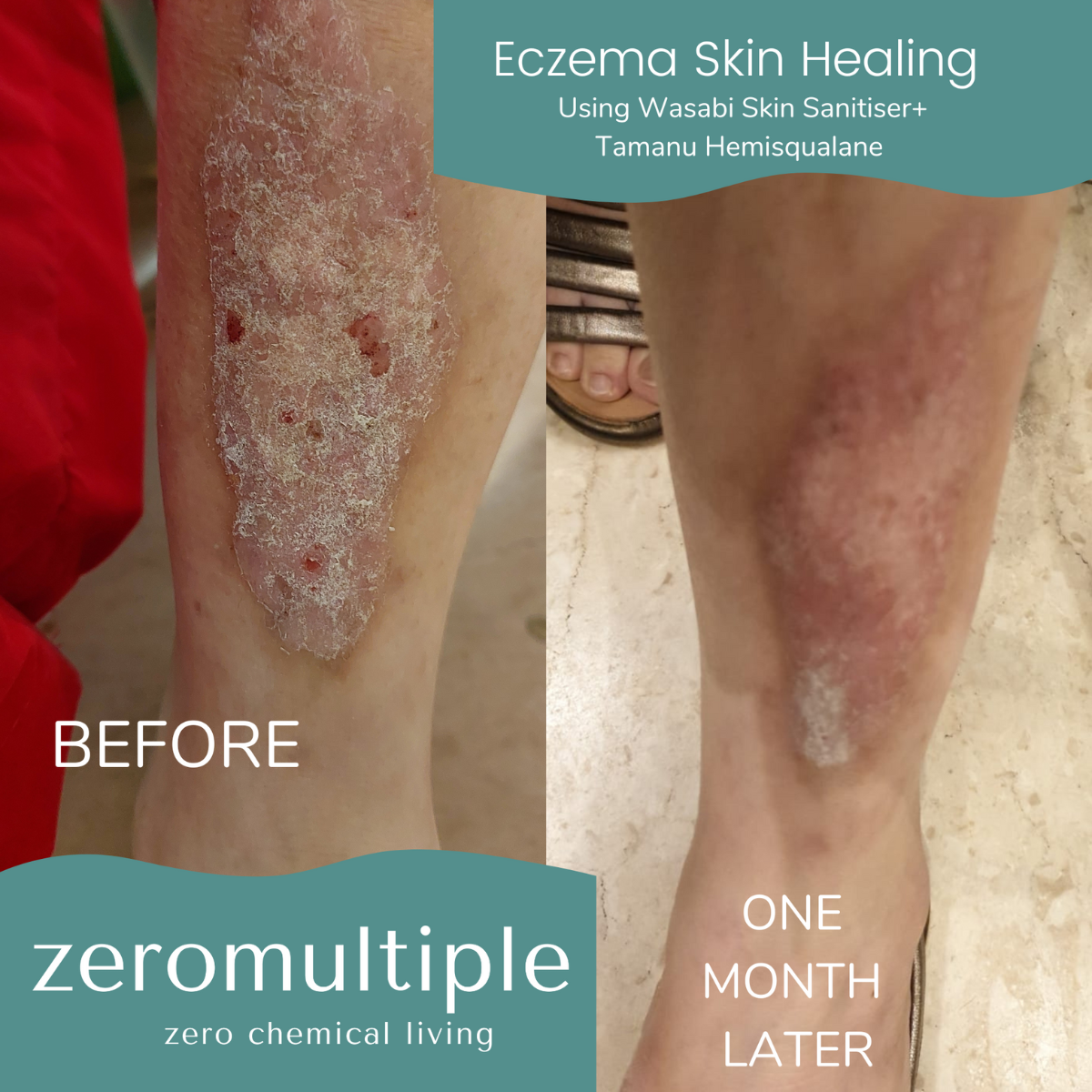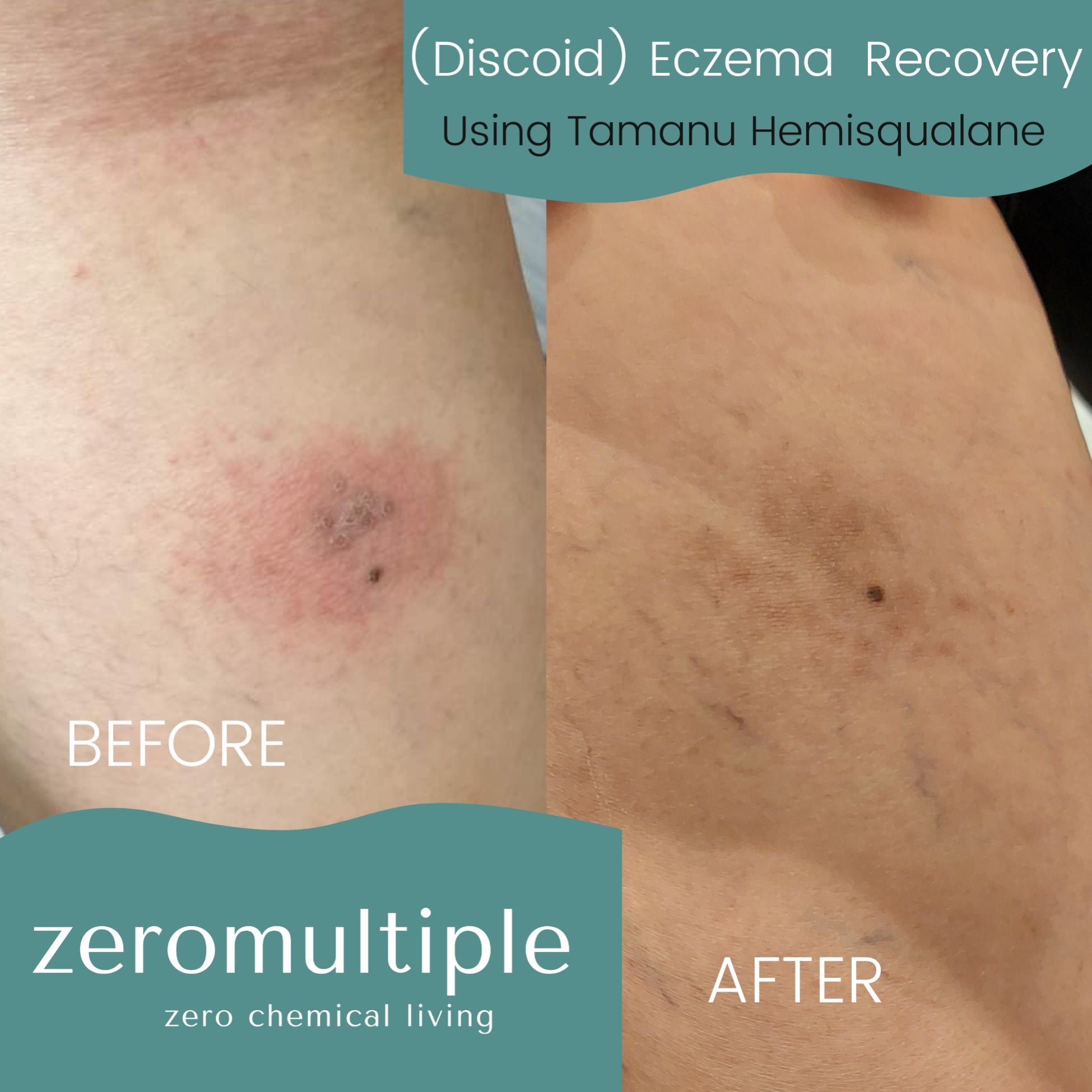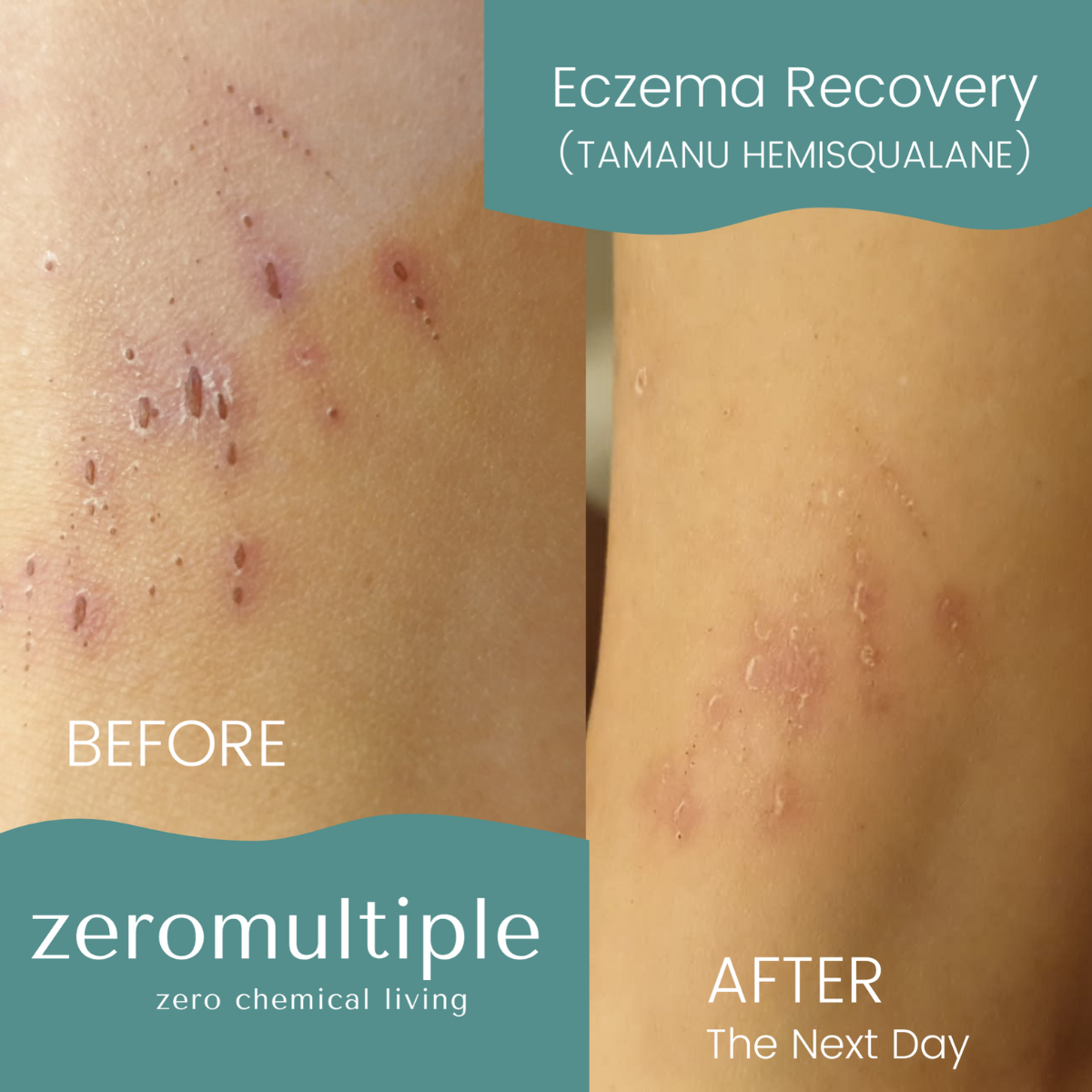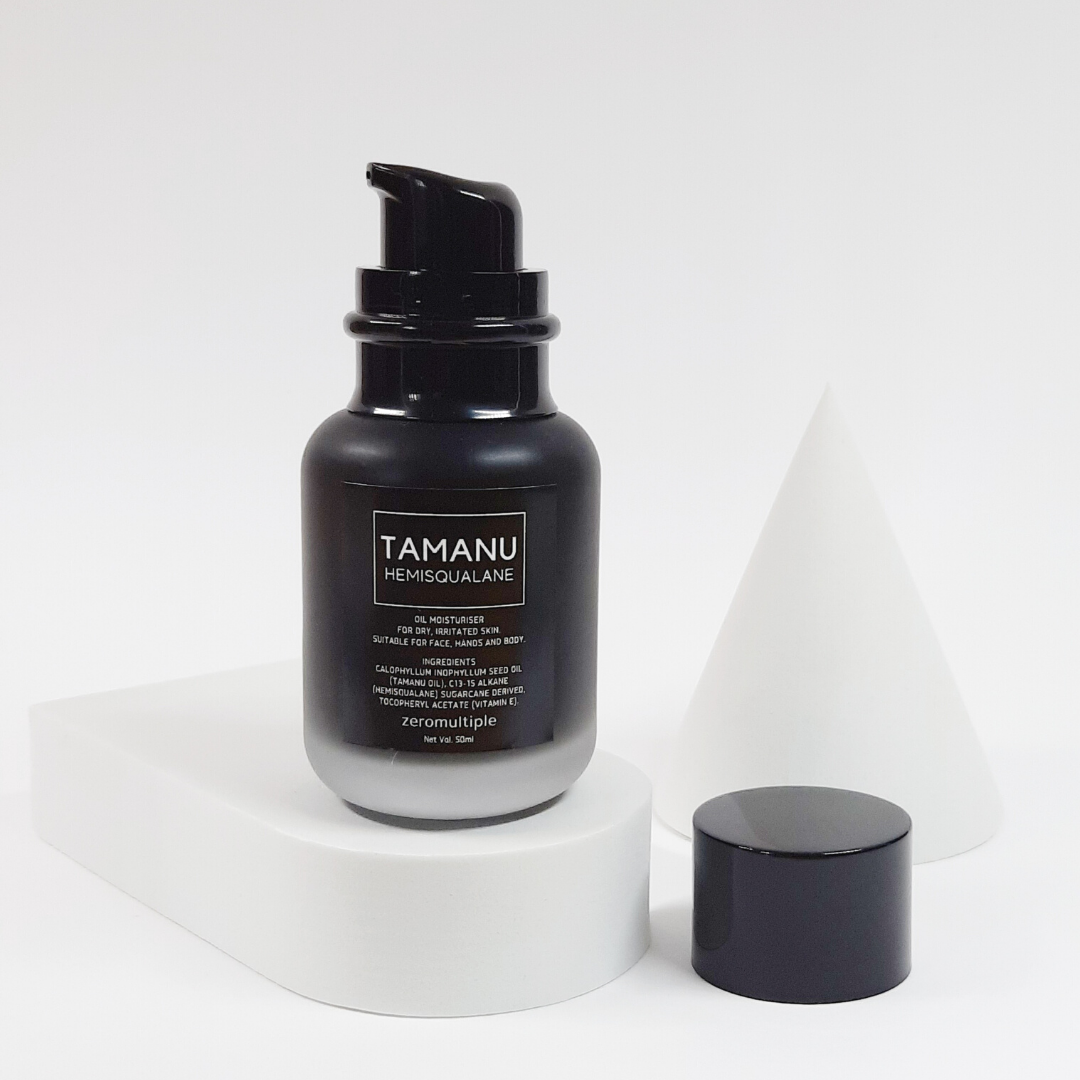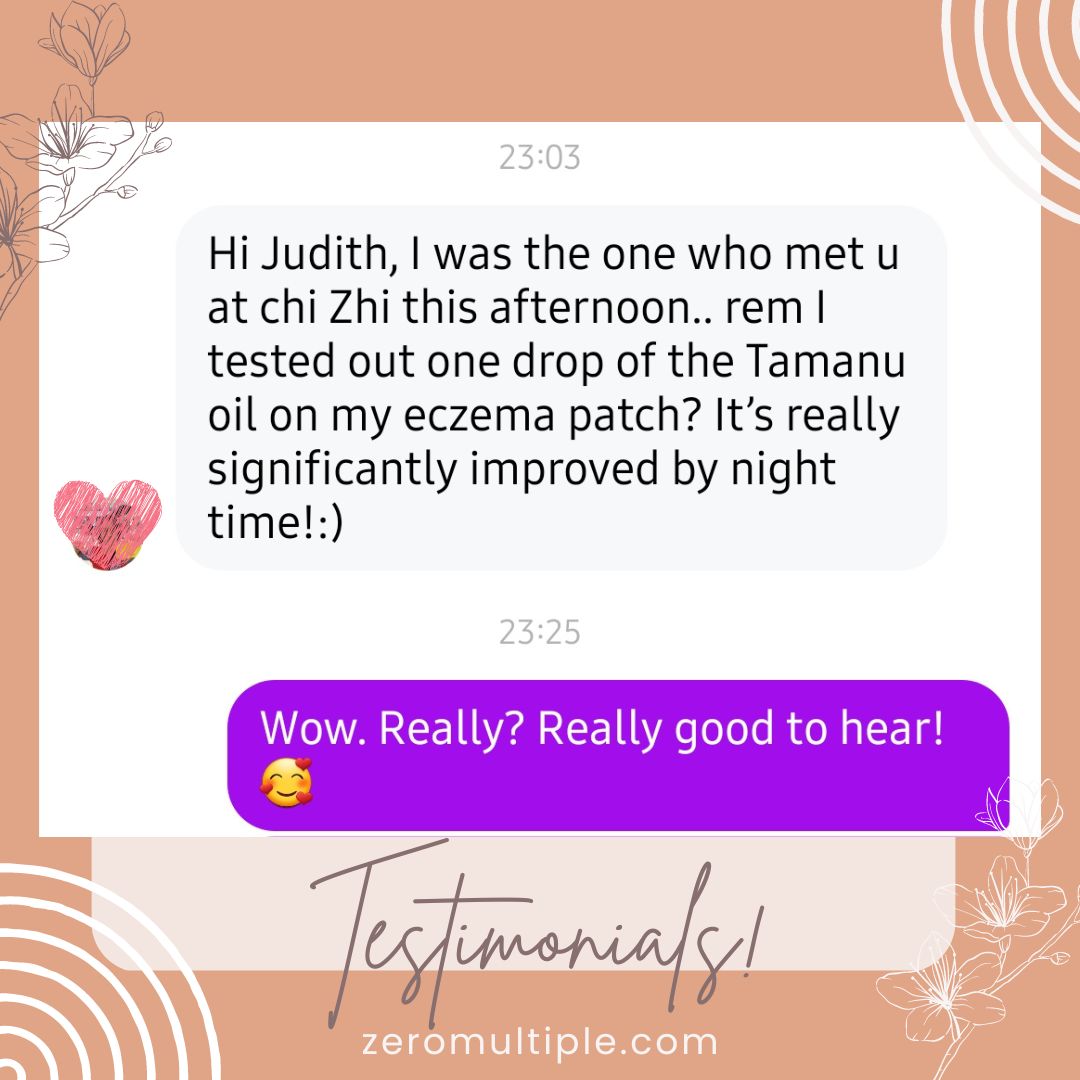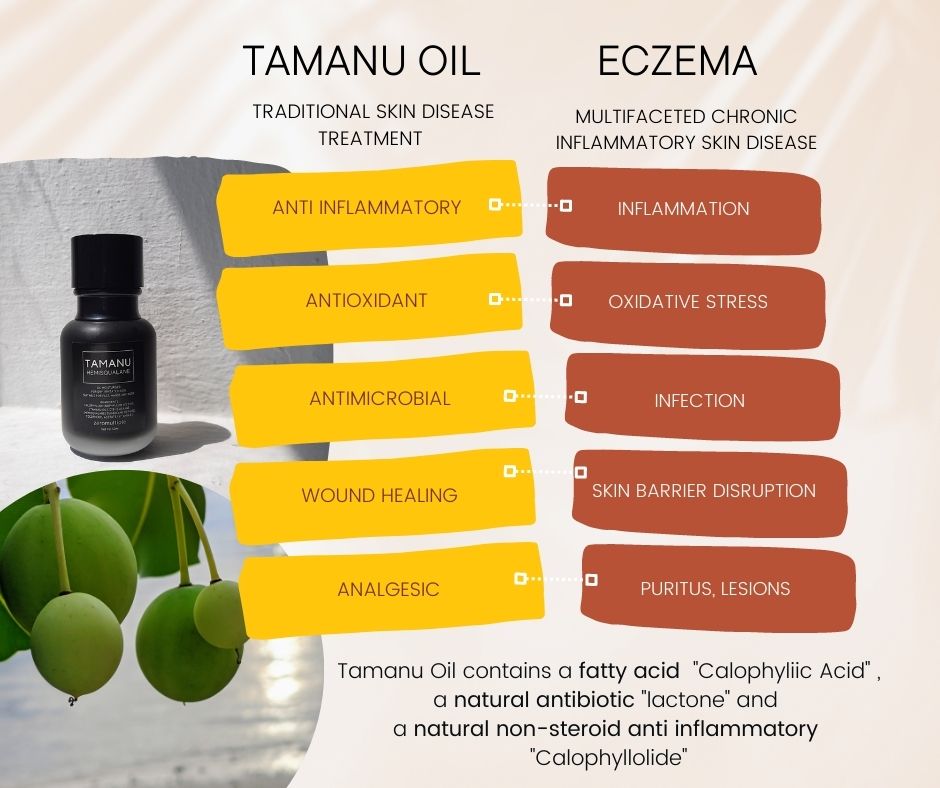 FAQs
Anti Bacterial Mist & Moisturise Eczema skincare set

Does this work? Many of our customers have been to the National Skin care centre and did the full range of treatment possible for their eczema. It did not work for them. But many of them have achieved skin improvement using our eczema skincare set.
Our opinion on steroids is that it may be necessary for acute eczema episodes. For chronic eczema management, it is best to find an alternative ie steroid free skincare regime.