MBG Moisturiser
Regular price

Sale price

$49.00
Launched 5.5.2022! Our Best Selling Vegan Moisturiser!
Formulated to perfection with a water cream texture!
Applies light but delivers powerful skin actives to the skin to help restore skin health. Formulated with 3 powerful actives, this cream targets fine lines and wrinkles and aging skin but it can also be used to prevent the onset of fine lines and wrinkles. Can be applied around the eye area.

Key Actives
Beta Glucan (from Mushroom) Beta-Glucan is a natural high-molecular weight polysaccharide naturally occurring in the cell walls of cereals, yeast, bacteria, and fungi. It is derived from mushrooms and is different than beta glucan from oat, barley or other plant.
-Helps to minimise fine lines and wrinkles. Serves as 'protect and repair' molecule as it increases natural self-protecting  capabilities of the skin and also accelerates skin recovery.
-Due to its high molecular weight it also has good water-binding capacity and therefore moisturising effects.
-Has been shown to stimulate collagen production in-vitro and can reduce appearance of fine lines and wrinkles.

Moringa Oleifera (Moringa Oil) - Moringa tree dubbed the miracle tree, Moringa seed oil is rich in omega fatty acids like oleic acid, palmitic acid, and linoleic acid. When it comes to face oil or moisturizing cream, fatty acids are your friends.
-Moringa oil is a super-softening emollient, which means it makes your skin soft while moisturising it.
-Moringa oil is also high in Linoleic acid which is a critical component for ceramides, one of the main moisturizing elements in our skin, and since our bodies don't produce this particular fatty acid, we need to ingest it or apply it.
-Moringa oil helps fight skin fatigue and helps regulate oil secretion. It's a great skin purifier, making your skin glow naturally.

Organic Laminaria Digitata (Sea Kelp) extract- Kelp seaweed is a member of the brown algae family (phaeophyta).
-Has a high content of silicon which help invigorating skin and tissue thereby improving the appearance of wrinkles
-Silicon (Not silicone!) is important for optimal collagen synthesis and activation of hydroxylating enzymes, improving skin strength and elasticity.
Restore your skin's health with this AM/PM moisturiser that you can layer in your routine or use as it is.
In 50ml glass jar.
Full Ingredient List

USDA Organic Rose Hydrosol, Moringa Oleifera Oil, Beta Glucan, Butylene glycol (sugarcane derived), Pentylene glycol (plant derived), Organic Laminaria Digitata (sea kelp) extract, Cetearyl Olivate ( olive derived), Sorbitan Olivate (olive derived), Lactobacillius Ferment, Scutellaria Baicalensis Root Extract, Glycyrrihiza ( Licorice) Root Extract, Glycerin, Begamot FCF* (essential oil 0.3%).

*FCF- Furocoumarin free. ( FCF causes photo sensitivity).
Skincare Step

For AM routine. Apply after toner and before sunblock.<br>For PM routine. Apply after toner. Or use as it is.
Best Before
Share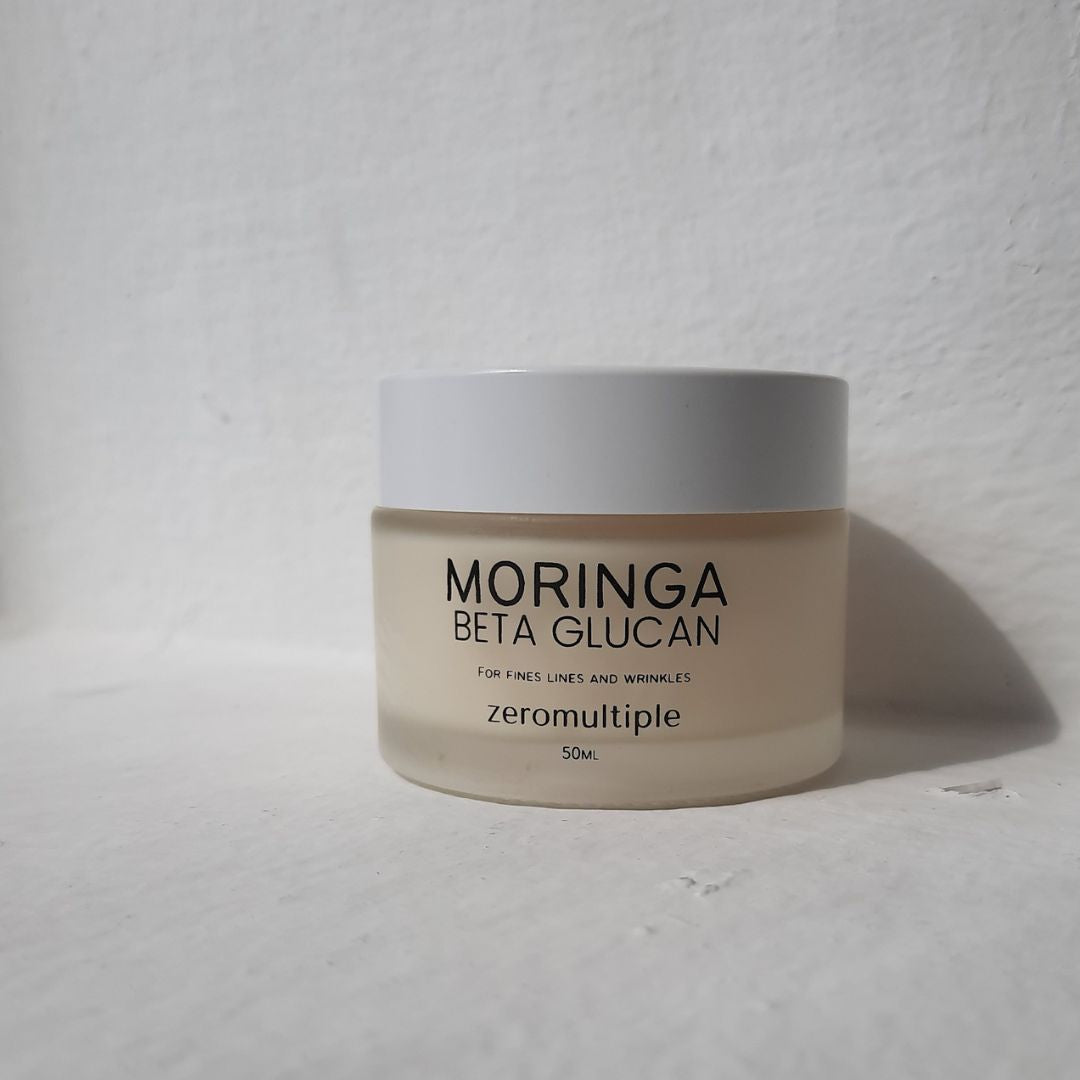 FAQs
MBG Moisturiser

Is this suitable for young oily skin? Yes, its ultralight weight formula does not clog pores . And with regards to fines lines and wrinkles, prevention is better than cure. Start this cream as young as you can. ie above 21 years.