Clear Skin Cleanse & Mist Set (Set A)
Regular price

$53.00

Sale price

$49.00
Your Clear Skin basics. 
Introducing the Acne Cleanse & Mist Set (Set A) – the perfect pairing for a clear, balanced, and blemish-free complexion. This powerful duo combines our Clear Skin Facial Wash Bar and Organic Rose Toner to gently cleanse and revitalize your skin while targeting stubborn C.Acne bacteria with the potent goodness of mangosteen extract. Experience the beauty of radiant, pH-friendly skin with this luxury set.
Our clear skin facial wash bar is specially crafted to tackle acne prone skin with gentle yet effective cleansing. Formulated with natural ingredients, this cleansing bar harnesses the power of nature to help you achieve a revitalised complexion.
 And you are on your way to clearer blemish free skin.
Suitable for normal, sensitive and acne prone skin.
Vegan Friendly.
Full Ingredient List

Clear Skin Facial wash Bar

Saponified oils of coconut, olive, rice bran oil. Lavender and Lemon essential oil.

Anti Acne Mist

Organic rose hydrosol, mangosteen extract, lactobacillus Ferment, scutellaria baicalensis root extract, glycyrrhiza (liquorice) root extract.
Skincare Step

Cleanse skin with facial wash bar. Lather with water and use only the foam to wash. Mist Anti Acne mist to return skin back to its natural acidic pH. Mist directly on face or onto palm and pat gently all over face.
Best Before

Facial Wash Bar 10/23 Anti Acne Mist 05/24
Share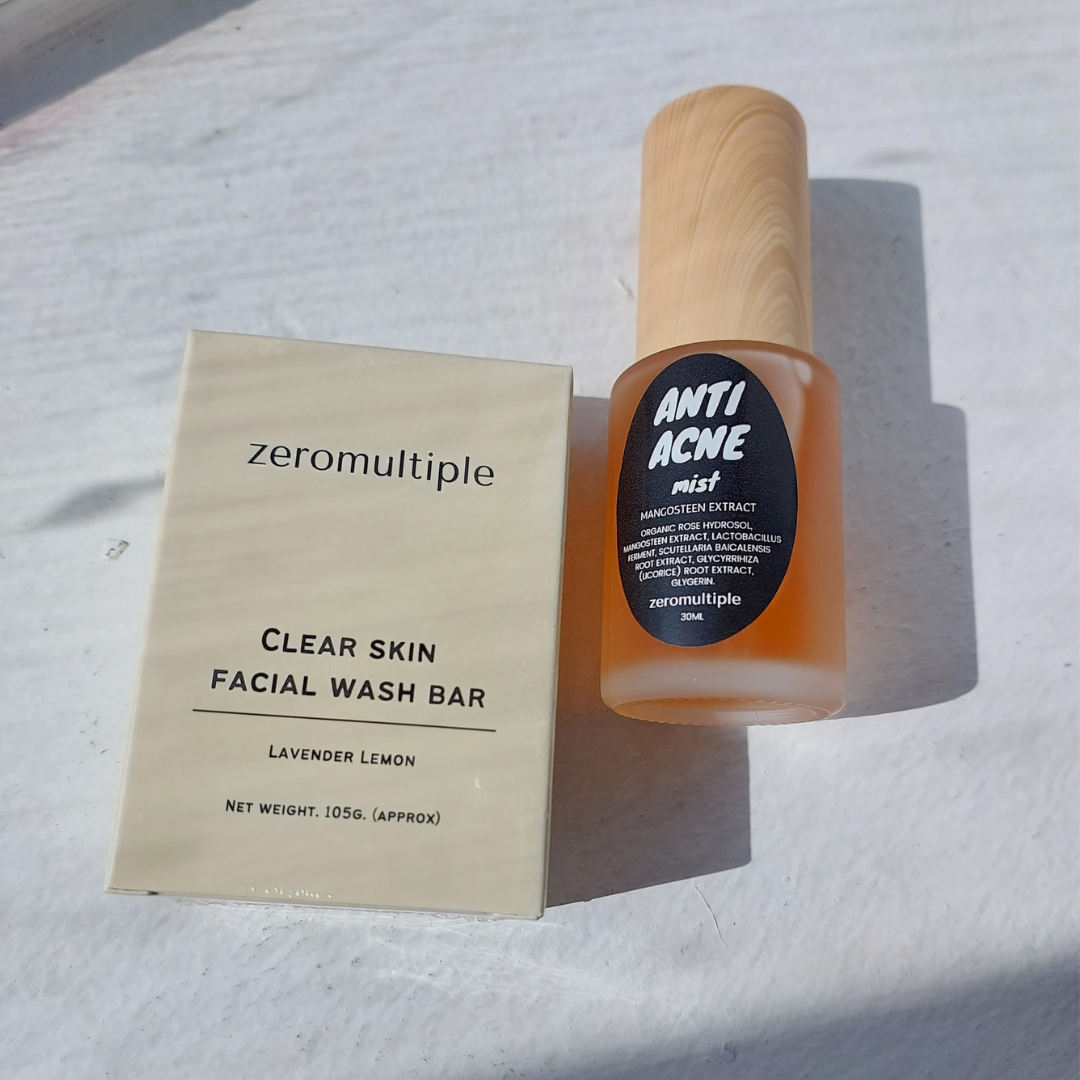 FAQs
Clear Skin Cleanse & Mist Set (Set A)

I have tried a lot of acne skincare and they don't work. Target the C. Acne bacteria not the sebum. Its the bacteria and not the sebum that is at fault. You need to kill C. Acne bacteria that lives in your pores and on your skin and your skin will start to clear and be less inflamed.