Bulk or Preorder_Moisturising Top To Toe Wash Bar
Regular price

Sale price

$45.00
This awesome product is currently not available. We are working to get this back in stock again.
An ultra moisturising Top to Toe wash bar for dry or eczema prone or sensitive skin!
Just one natural soap bar for hair, face and body. Reduce overwhelm in the bathroom when you bathe with this natural wash bar. Very relaxing when your routine is simple. Great for fuss free gentlemen. Suitable for kids above 3 years.
Formulated with Rice bran oil, Olive oil, Coconut Oil, Sweet Almond Oil and with added Shea butter.
Suitable even for normal skin or who prefer a moisturising wash. In Lavender and Tea tree essential oil.
Choose your order size from 4 pcs ( half log) or 8 pcs  (full log). Each soap pcs are cut and individually wrapped.
Each piece of soap is approximately 100gram.
4 Pcs log price is inclusive of 1 FREE soap net.
8 pcs Log price is inclusive of 2 FREE soap net.

Next batch arrival ETA to be advised.  
Enjoy the special preorder prices while it lasts! If you missed this round, simply put in your order before the 7th of every month. As this is an ultra moisturising soap, it takes a longer time to cure. Please expect a 8 weeks wait minimum for your order. Do do order your quantity in advance.
Full Ingredient List

Saponified oils of Shea butter, Rice Bran Oil, Sweet almond oil, coconut oil. With Lavender and Tea tree essential oils.
Skincare Step

Please soap in soap net and lather under running water. Use lather to wash hair, face and body. Super!
Best Before

2 years from Date of Manufacture
Share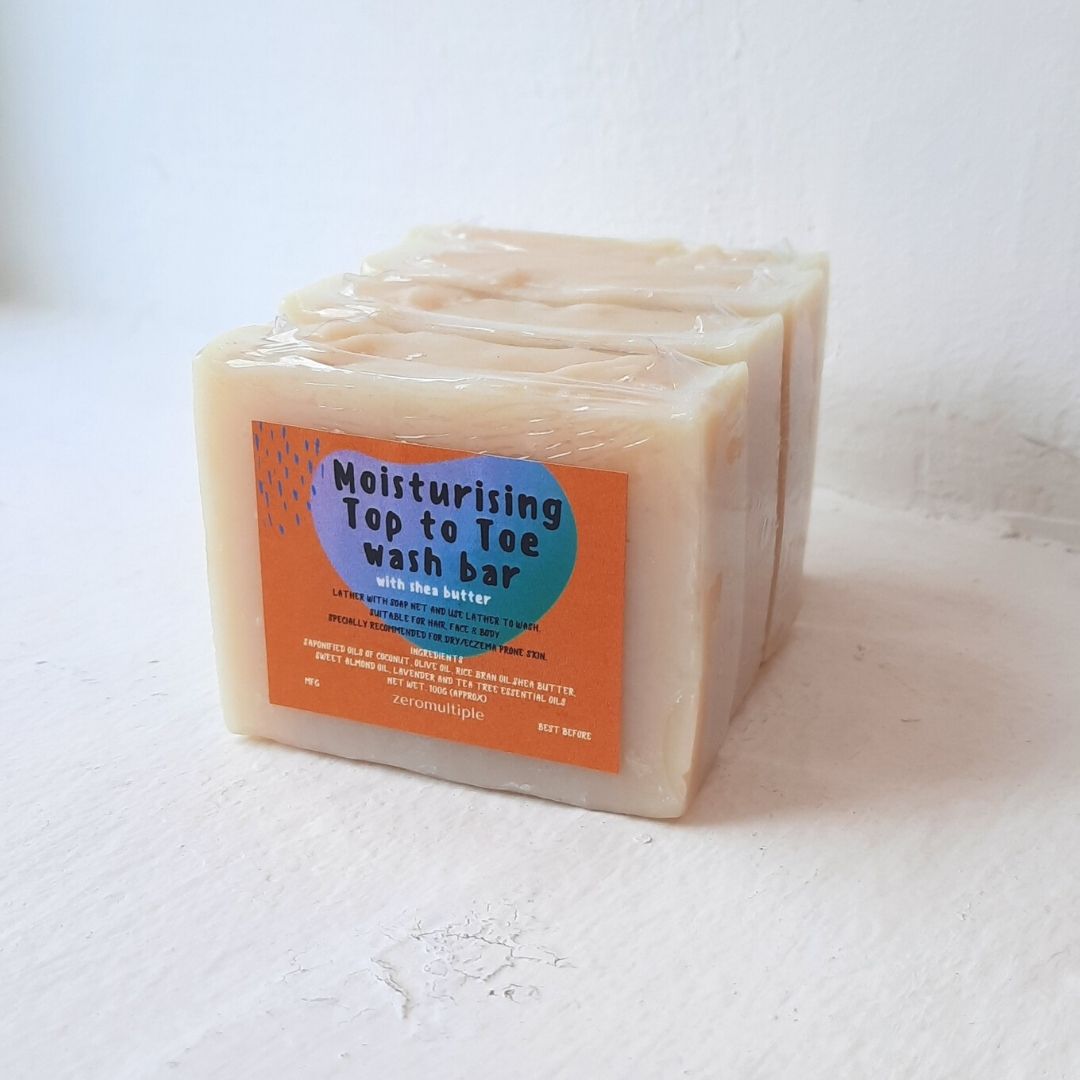 FAQs
Bulk or Preorder_Moisturising Top To Toe Wash Bar

Purpose of this Top to Toe Wash Bar. It is formulated to give folks that is always travelling, on the go , a moisturising and gentle wash. Please use other products on your face if you find it too moisturising or dry for your skin. It is hard to do a all in 1 formula and everyone's skin and hair is different.