Cystic Acne Skincare Bundle
Regular price

$109.00

Sale price

$101.00
Are you tired of battling stubborn cystic acne that refuses to budge?
Before you book another appointment with your doctor, give our Cystic Acne Skincare Set a chance to work wonders on your skin!
Our powerful trio includes a Clear Skin Facial Wash Bar, an Organic Rose Toner enriched with Mangosteen Extract, and a potent Anti-Inflammatory Cream formulated with Tamanu Oil, Turmeric Hydrosol, and Mangosteen Extract.
Together, these carefully curated products aim to reduce inflammation, target acne bacteria, and help you achieve the clear, radiant complexion you've been dreaming of!
Why Choose Our Cystic Acne Skincare Set?
1. Clear Skin Facial Wash Bar: Our Clear Skin Facial Wash Bar is designed specifically for those dealing with cystic acne. Harnessing the gentle yet effective properties of natural ingredients, this cleansing bar cleans deep within your pores, banishing dirt, excess oil, and impurities that lead to pesky breakouts.
Lemon Essential Oil:

 With powerful antibacterial properties,

 lemon oil targets the root cause of acne by combatting acne-causing bacteria, promoting clearer skin over time.
Rice Bran and Olive Oil:

 

Soothe and calm inflamed skin with the natural moisturising properties of these oils, leaving your face feeling refreshed and revitalised after each wash.
Lavender essential oil:

 

Lavender's gentle touch helps reduce redness and irritation, promoting a smoother, more even complexion.
2. Organic Rose Toner with Mangosteen Extract: Our Organic Rose Toner with Mangosteen Extract is the perfect complement to our facial wash bar. This luxurious toner works to restore your skin's pH balance, creating an environment that actively combats C. Acne bacteria.
Mangosteen Extract:

 

Packed with potent antioxidants, Mangosteen Extract fights acne-causing bacteria while reducing inflammation for a calmer, clearer complexion.
Organic Rose Water:

 

Sourced from the finest roses, our organic rose water hydrates and soothes, leaving your skin feeling soft and supple returning your skin back to is natural acidic pH.
3. Potent Anti-Inflammatory Cream: Our powerful Anti-Inflammatory Cream is the secret weapon against inflamed, large zits associated with cystic acne. Formulated with a blend of skin-loving ingredients, this cream targets inflammation, promoting faster healing and reducing redness.
Tamanu Oil:

 

Known for its impressive healing properties, Tamanu Oil helps soothe irritated skin and accelerates the skin's natural recovery process.
Turmeric Hydrosol:

 

The anti-inflammatory benefits of Turmeric Hydrosol aid in reducing redness and swelling, providing relief to irritated skin.
Mangosteen Extract:

 

With its strong antioxidant properties, Mangosteen Extract enhances the cream's effectiveness, combating acne bacteria and promoting a clearer complexion.
Why Wait? Embrace Your Journey to Clear Skin Today!
Our Cystic Acne Skincare Set is thoughtfully crafted to provide you with a comprehensive solution to tackle cystic acne effectively. Say goodbye to those frustrating breakouts and hello to the confidence that comes with clear, healthy skin.
Before scheduling another doctor's appointment, give our Cystic Acne Skincare Set a try! We're confident you'll love the results and see the positive transformation in your skin. Take the first step towards radiant, blemish-free skin by adding our skincare set to your cart today! Don't let cystic acne hold you back any longer; regain control of your skin and your confidence with our powerful, natural solutions.
Full Ingredient List

Clear Skin Facial wash Bar

Saponified oils of coconut, olive, rice bran oil. Lavender and Lemon essential oil.

Anti Acne Mist

Organic rose hydrosol, mangosteen extract, lactobacillus Ferment, scutellaria baicalensis root extract, glycyrrhiza (liquorice) root extract.

Tamanu Tumeric Mangosteen Anti-infammatory cream
Organic Cucuma Longa water ( Organic Tumeric hydrosol), Calophyllum Inophyllum Seed Oil ( Tamanu Oil), Tocopheryl Acetate (Vitamin E), Garcinia Mangostena ( Mangosteen extract), Lactobacillius Ferment, Scutelleria Baicalensis Root Extract, Glycyrrhiza ( Liqorice root extract), Glycerin, Cetearyl Olivate, Sorbitan Olivate ( Olive Oil Derived), Lavender Essential oil.
Skincare Step

Cleanse with facial wash bar, mist with anti acne mist to return skin back to its natural acidic pH. Apply a small pea sized TTM cream on affected area.
Best Before

Facial wash Bar Best Before 10/23 TTM cream Best Before 05/24 Anti Acne Mist Best Before 05/24
Share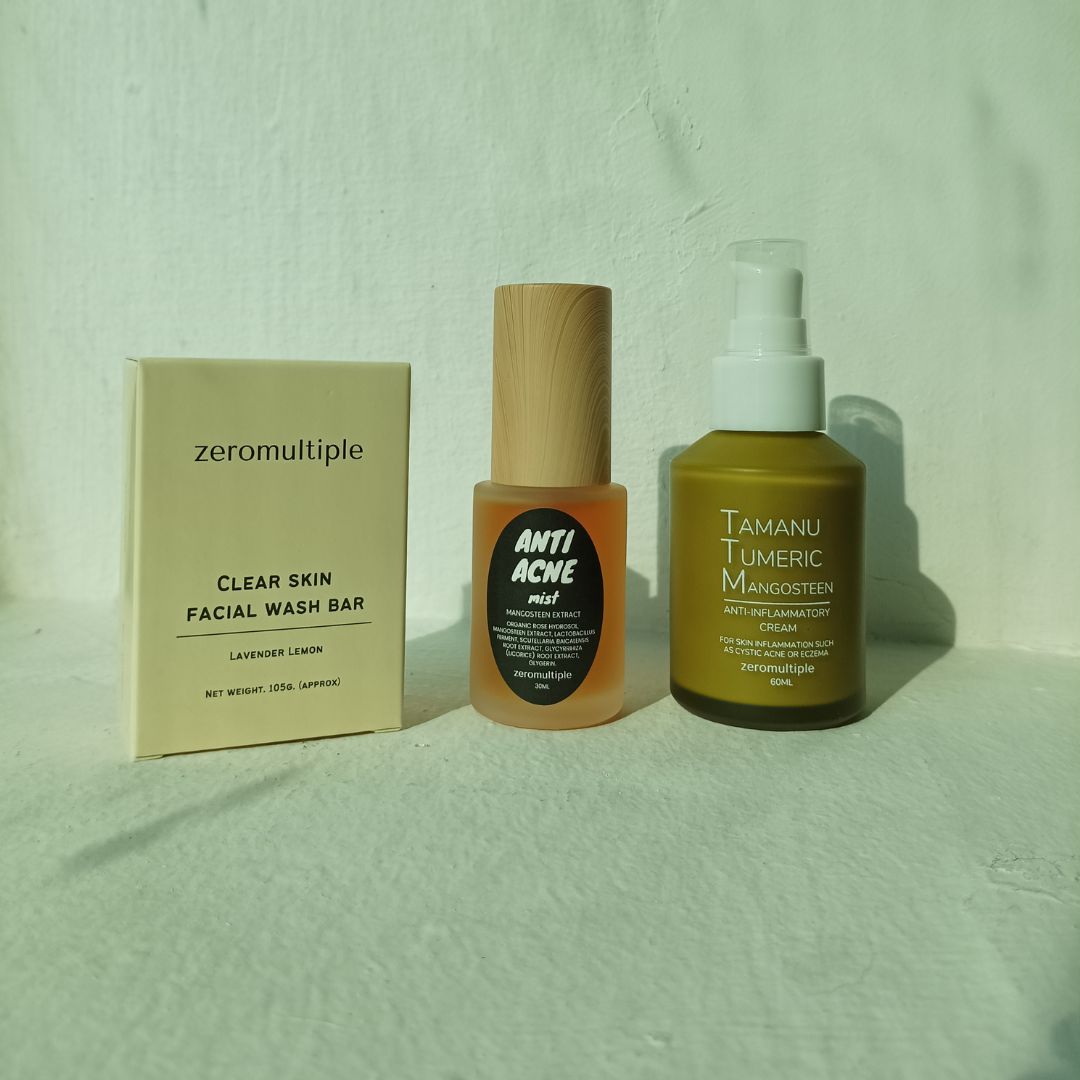 FAQs
Cystic Acne Skincare Bundle

How Fast can i see results? It varies as everyone' skin is different. And it depends also if you are also using other products on top of this skincare set. Try not to mix. So far we can see improvement in 2 weeks based on strictly our skincare regime. So don't mix products. Have faith and stick to this set for 2 weeks and see your skin improve.