Dry Skin Wash & Care Bundle
Regular price

$55.00

Sale price

$50.00
Shower time with eczema prone skin need not be frought with anxiety. FRET NOT! Reduce overwhelm in the bathroom with our gentle wash regime. Each Set purchase comes with a soap net to produce more foam.

Top to Toe wash bar is suitable for hair, face and body. With added SHEA BUTTER and rice bran oil. Or chose unscented/lavender oatmeal face & body bar for a gentle cleanse.

Coconut oil cleanses while rich avocado oil in the oatmeal soaps provides intense hydration that leaves the skin soft, smooth and supple after showers. Castor oil helps boost bubbles for a luxurious lather without any artificial surfactant. A generous portion of organic oatmeal helps calm and soothe troubled skin while giving a natural, gentle exfoliation for a relaxing shower.

Follow up by moisturising with Tamanu Hemisqualane moisturiser. Tamanu Oil is extremely moisturising and oil based moisturiser is excellent for its anti inflammatory properties for  eczema prone skin. It has an excellent omega 3, 6 and 9. fatty acid profile which is similar to emu oil. Topical application of omega 3, 6,9 is crucial to dry skin recovery.
Hemisqualane derived from sugarcane is an non greasy emollient making Tamanu Hemisqualane a non greasy oil based moisturiser.
Suitable for all skin types and for suitable for kids above 3 years.
Set includes
1 piece of  natural  moisturising Top to Toe wash bar (70 gram special batch)/ Unscented Lavender Face &  Body soap /Lavender Oatmeal Face & Body soap
1 bottle of Tamanu Hemisqualane moisturiser  50ml
1 pcs of soap net.
 
Full Ingredient List

Moisturising Top to Toe wash bar.

Saponified oils of Olive, coconut, rice bran and sweet almond oil and added shea butter with Lavender and tea tree essential oils.

Unscented Oatmeal Face & Body Soap.

Saponified oils of Organic Coconut, Canola, Olive,Avocado,Castor,
Organic Oatmeal

Lavender Oatmeal Face & Body Soap

As above ingredients with added lavender essential oils.

Tamanu Hemisqualane

Calophyllum Inophyllum Seed Oil, C13-15 Alkane. ( Hemisqualane, sugarcane derived), Tocopheryl Acetate ( Vitamin E).
Skincare Step

Lather soap under running water. Use lather/foam to wash. Do not use bar directly on sensitive skin. If you have broken skin from eczema, please sanitise with wasabi extract santiiser and followed by Tamanu Hemisqualane Moisturiser.
Best Before

See Best before date on the soap bars. Tamanu Hemisqualane Best before 12/24
Share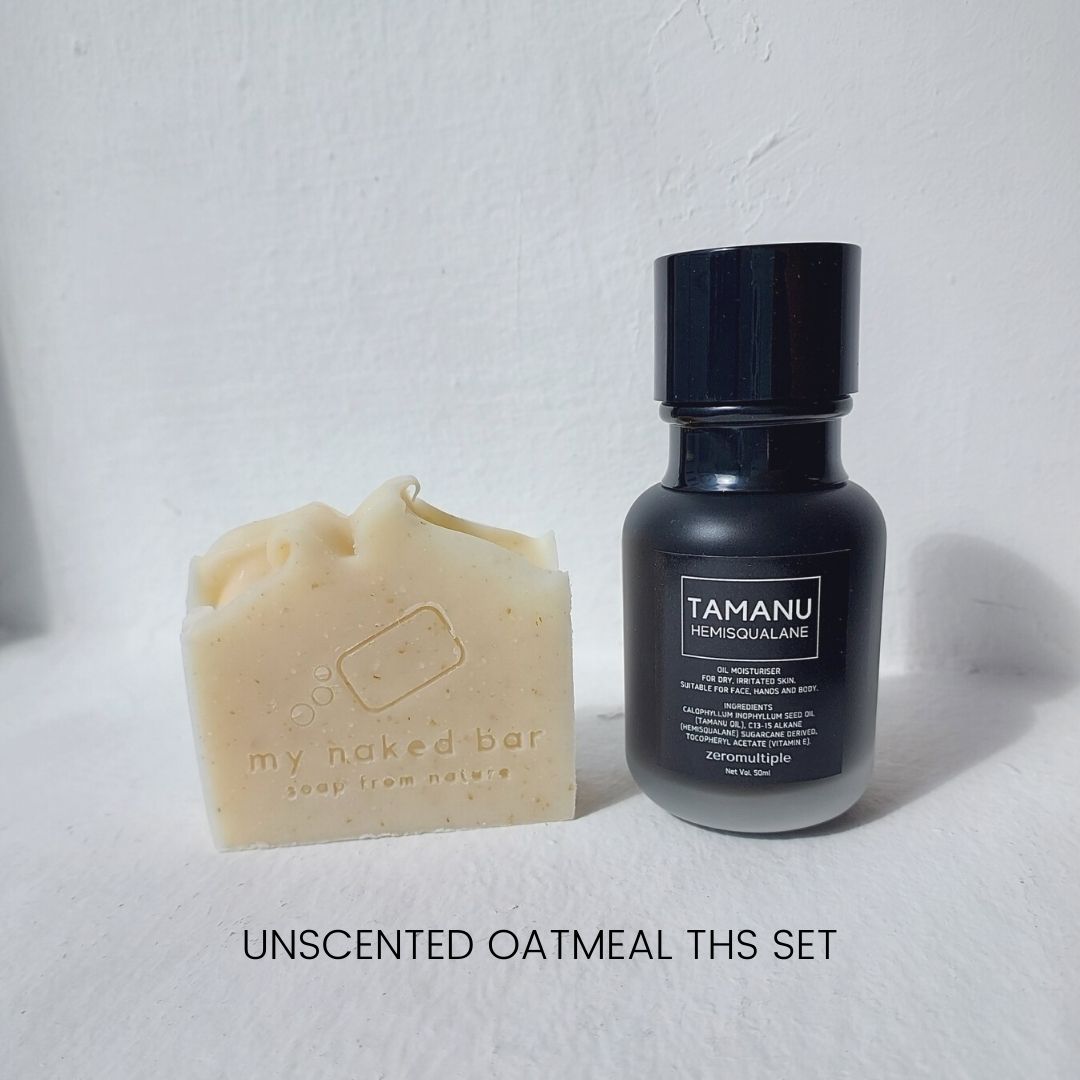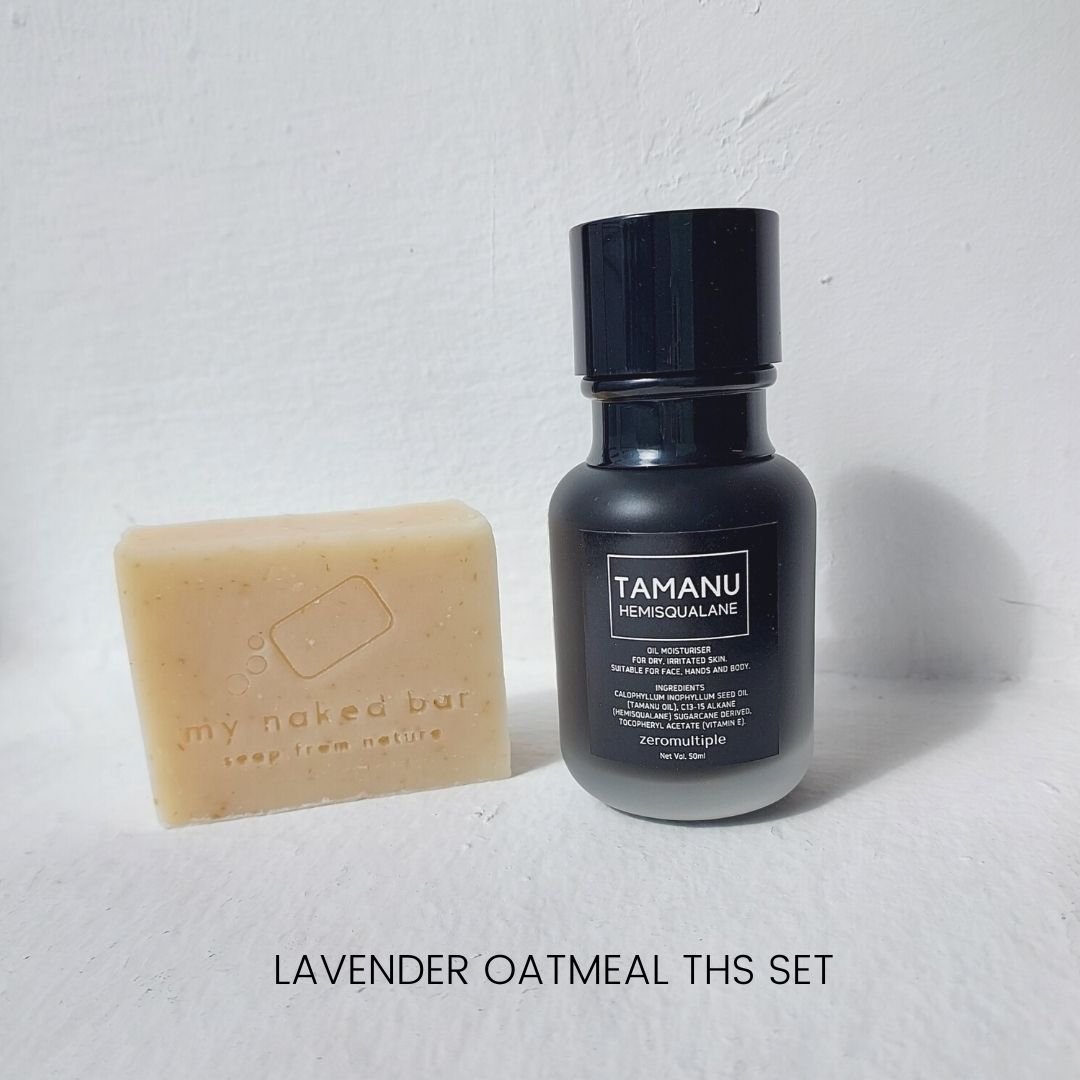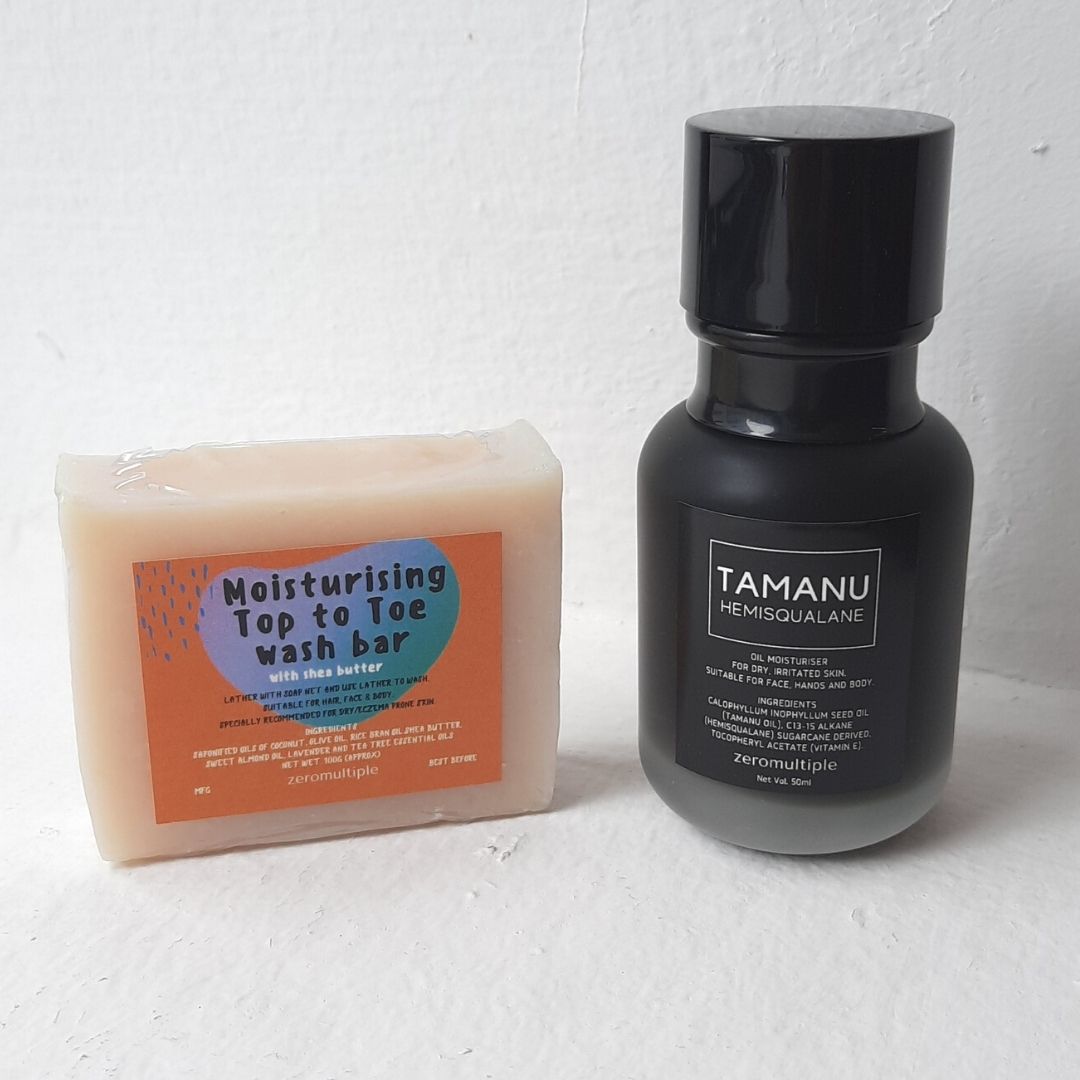 FAQs
Dry Skin Wash & Care Bundle

Some say dont use soap on eczema skin. There are many types of soap on the market and some claim soap free. From our experience, the oatmeal soaps has made a difference in our customer's eczema skin. Eczema skin require an effective cleansing but yet moisturising wash. The washing is only a couple of seconds, it is necessary to kill nasty skin bacteria on broken eczema skin.