Hwado Suncream 50ml and Duo Bundle
Regular price

$71.00

Sale price

$63.00
Hwado suncream is an SPF 18++  2 in 1 moisturiser/sunscreen with added zinc oxide.
Hwado suncream helps to simplify your routine when you get ready for the day. Just apply the cream and you are good to go! This formula does not give a white cast (suitable for all skin tones). 
Based on a bioactive herb complex of Glycyrrhiza Uralensis ( Licorice ) root extract, Centella Asiatica (Gotu Kola/Cica) Extract, Ecklonia Kurome (brown algae) Extract. This plant extracts replaces Titanium Dioxide in this SPF formulation.
SPF 18++ blocks 95% of sun's rays.
Hwado's suncream is based on organic green tea and is gentle and does not clog pores.
Glycyrrhiza Uralnesis( Licorice) :Inhibit production of melanin, anti- inflammatory
Centella Asiatica: Smoothes and calms red sensitive skin.
Ecklonia Kurome : Antioxidant, prevents degradation of collagen ( anti aging), anti-inflammatory.

Curcuma Longa extract: Helps wounds heal by decreasing inflammation and oxidation. Great for recovering acne scars.
Broccoli extract : Helps skin fend off damage from harmful uv radiation.
Lightly scented with Salvia Officinalis (Sage) Oil and Chamomilla Recutita (Matricaria) Flower Oil.
No White Cast. Suitable for all skin tones.

Made in Korea.
 
 
Full Ingredient List

Camellia Sinensis Leaf Extract, Water
Glycyrrhiza Uralensis (Licorice) Root Extract, Centella Asiatica Extract, Ecklonia Kurome Extract
Zinc Oxide
Olea Europaea (Olive) Fruit Oil, Lactobacillus Ferment
Camellia Japonica Seed Oil, Lactobacillus Ferment
Tromethamine
Butylene Glycol (sugarcane)
Cocos Nucifera (Coconut) Oil
Brassica Oleracea Italica (Broccoli) Extract, Curcuma Longa (Turmeric) Root Extract, Ananas Sativus (Pineapple) Fruit Extract
Beeswax
Camellia Sinensis Leaf Extract, Yeast Ferment Extract, Glycerin, Allium Sativum(Garlic) Bulb Extract, Water
Glyceryl Stearate SE
Cetearyl Olivate, Sorbitan Olivate
Caprylic/Capric Triglyceride
Tocopherol
Xanthan Gum
Lecithin
Curcuma Longa (Turmeric) Rhizome Extract, Water, Glycerin, Polysorbate 20(Ecocert)
Salvia Officinalis (Sage) Oil
Chamomilla Recutita (Matricaria) Flower Oil
Skincare Step

You can skip your am moisturiser if you have normal oil skin. Just apply one cream after toner and you can get out of the door.
Best Before
Share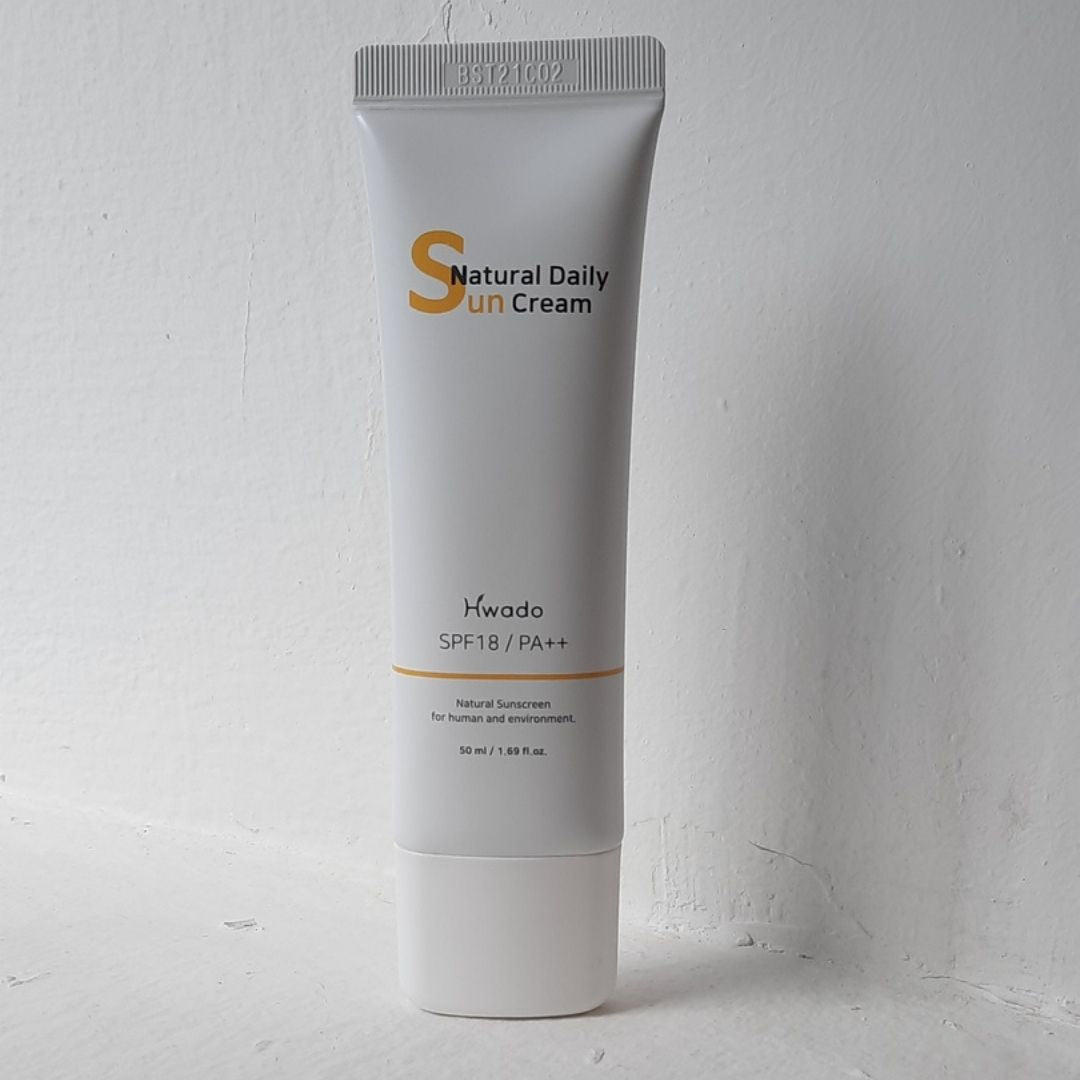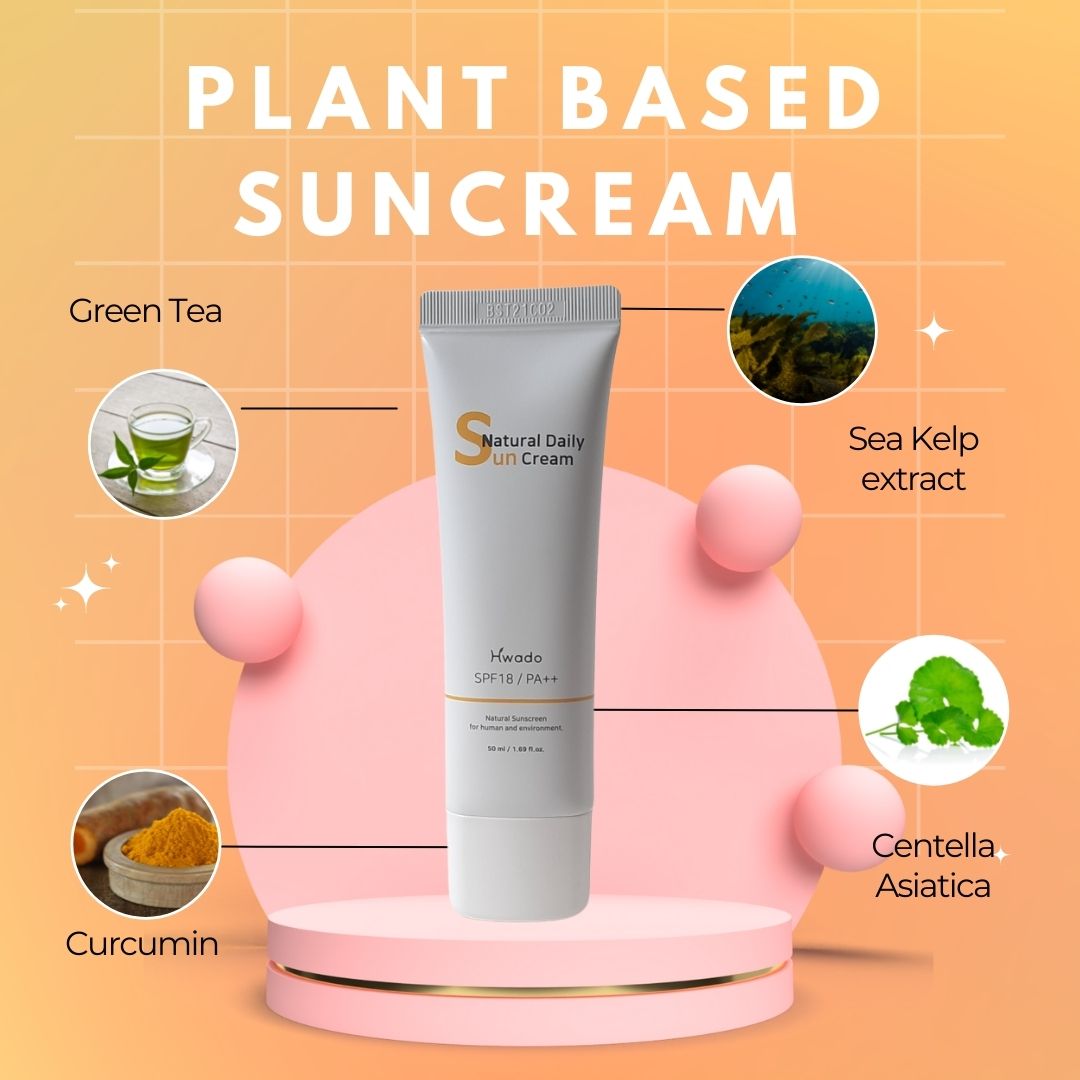 FAQs
Hwado Suncream 50ml and Duo Bundle

Isn't SPF 18 a bit low? SPF 18 blocks 95% of sun's rays and SPF 30 blocks 98%. There is not much difference of 3%.
It is good enough for daily indoor and outdoor activities.
Put on some sunblock and go out and enjoy some fresh air. Don't fret about the 3%.
And yes..
SPF 50 and above is marketing nonsense.