Reset & Heal Aromatherapy Moisturiser Roll ons
Regular price

Sale price

$21.00
Release stress and fatigue with our vetiver based roll on.
Formulated using Organic moringa oil , these roll ons are 2 in 1 bringing you aromatherapy in a moisturising non greasy base. Formula rolls on like an oil and finishes with a non greasy and non tacky feel.
Reset & Heal roll ons are both formulated using Vetiver essential oil, also known as Oil of tranquility.  If you have experienced calmness when you step into a temple or when you let the ocean waves wash your feet, vetiver confers the same powerful sense of tranquility. See more at Info tab.
Reset contains a blend of Lavender Bulgaria, Bergamot and Vetiver essential oils diluted with Organic Moringa oil.
Reset is suitable for
overwhelm, anxiety episodes
panic attacks
or periods of emotional upheaval including stress.
Apply on the inside of your wrists and take a few deep breaths. Experience calm and steady your emotions.
Aroma profile of Reset:Top notes of calming Lavender, Bergamot with a final base note of sweet, woody, grounding Vetiver.

Heal contains a blend of Kaffir lime, Rosalina ( similar but less powering than tea tree) and Vetiver essential oils diluted with Organic Moringa Oil.
Heal is suitable for alleviating headaches/migraines or clearing mental fatigue after a long day, helps open respiratory airway. Aroma profile changes to calming Vetiver as based notes.
Kaffir Lime Eo: Helps to alleviate headaches, migraine
Rosalina EO: Helps to  clear nasal congestion and open up respiratory airway
Vetiver EO: Uplift depressed moods
May be applied to philtrum (below nose), inside of wrists , temple area or back of neck.
Aroma Profile of Heal : Uplifting top notes of Kaffir lime to shake off mental fatigue, soft, fresh, slightly rosy, with penetrating pine-like Rosalina notes and finishing with base notes of sweet and with pronounced sweet woody, grounding Vetiver.
Our roll ons contains 3% to 5% essential oils which is at the recommended level for topical application. Kindly test for skin sensitivity, if you have sensitive skin.
Great as a natural perfume on its own. Recommend RESET for gentlemen and HEAL for ladies.

Our aromatherapy roll ons, are consulted and formulated with a certified aromatherapist from USA. There is no known contradiction in pregnancy for the essential oil blends present in our roll ons. Please use at your own risk if you are pregnant. Our Reset and Heal roll ons are suitable for kids above 3 years old.
In 10ml rose glass with rose gold metal cap. Roll ons are leak proof. Perfect in your pocket or handbag.

How to use:
When anxious, apply to inside of wrist, and cup hands over nose and take a few deep breaths. When mentally fatigued, apply to philtre ( area below nose) and breathe.
All online purchases of the roll ons will come in our Christmas red and gold ribbon box. ( Even for single roller purchase). While stock lasts.
 
Full Ingredient List

Reset

Organic Moringa Oil, Lavender Bulgaria,Bergamot, Vetiver essential oil and Tocepheryl Acetate (Vitamin E).

Heal

Organic Moringa Oil, Kaffir Lime, Rosalina, Vetiver essential oil andTocepheryl Acetate (Vitamin E).
Skincare Step

Apply to area behind the ears or smell directly to destress . Apply to inside of wrist and cup hands together and inhale.
Use the roller ball to press gently on tension knots on head, temples, or nape of neck.
Best Before
Hurry, only 6 items left in stock!
Share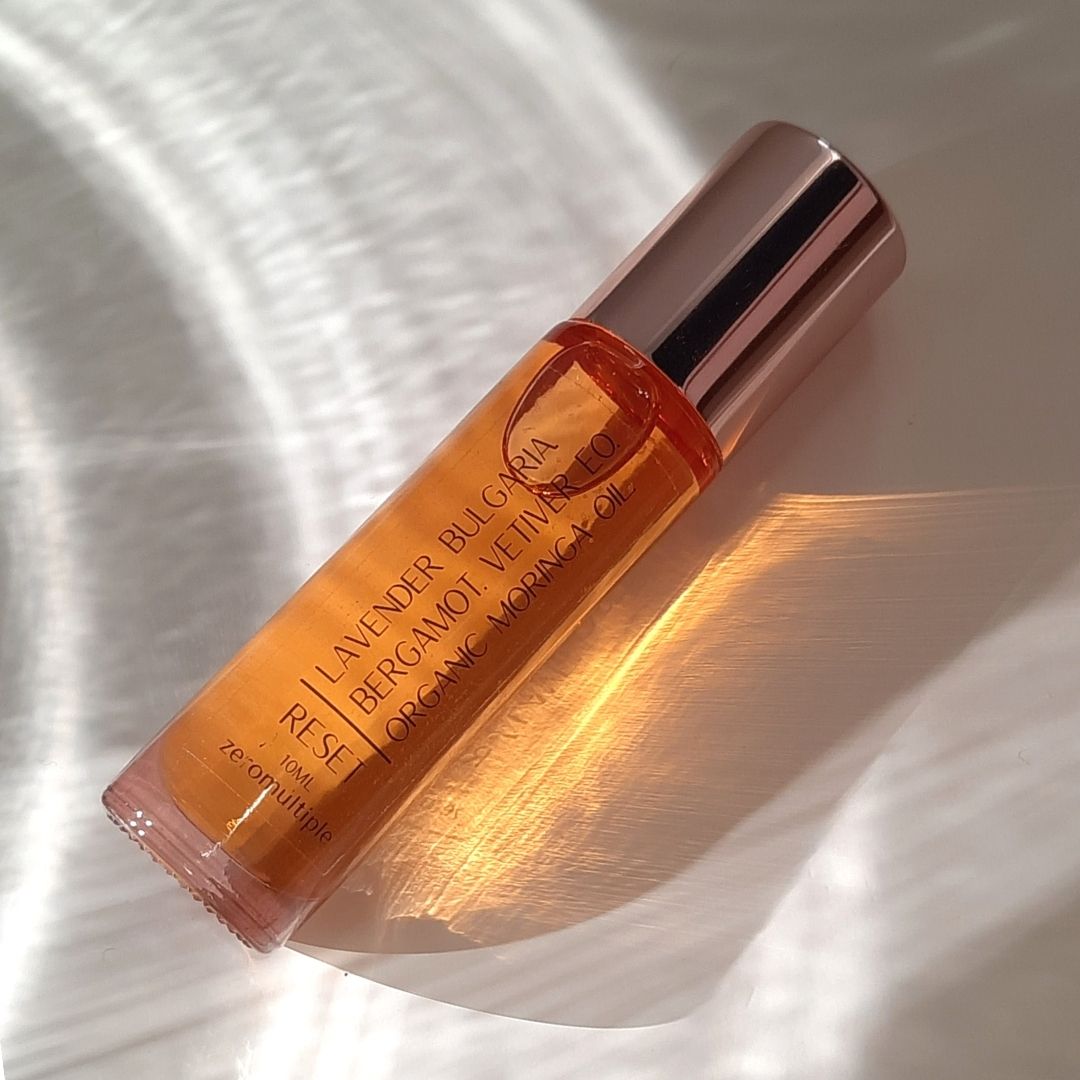 FAQs
Reset & Heal Aromatherapy Moisturiser Roll ons

HISTORY OF VETIVER OIL USAGE
Derived from the aromatic roots of the Vetiveria zizanioides (Linn) Nash. botanical, Vetiver Essential Oil has come to be known as both the "Oil of Tranquility" and "The Fragrance of the Soil" in India and Sri Lanka, due to its grounding, sensuous, and deeply calming scent. Vetiver belongs to the Grass family, and is sometimes referred to as Vetivert and Khus.

Since the Middle Ages, Vetiver Oil was most commonly used in scents. Its deep and woody aroma has come to be associated with masculine colognes, and it has come to be a main ingredient in a large percentage of men's fragrances. As early as the 12th century, the Vetiver herb and the essential oil obtained from its roots have been used around the world for their soothing, protective, and uplifting properties:

In Ayurvedic practices, Vetiver Oil was respected for its spiritually inspiring aroma and for its remedial qualities. Accordingly, it was used to address countless health concerns including imbalances in psychosomatic temperament, arthritis and other joint disorders, muscular aches, headaches, fevers, loss of energy, heat strokes, and skin problems. During periods of high environmental temperatures, Vetiver Essential Oil's refreshing properties made it ideal for cooling high body temperatures. Vetiver Oil became an integral part of Ayurvedic massages for its additional abilities to strengthen the nervous system by sedating the senses and thereby reducing the stress and physical exhaustion linked to low immunity. Before marriages took place, brides were given a purifying massage with Vetiver Oil.

Inspired by Ancient Chinese beliefs, Vetiver Essential Oil was used in traditional medicine to soothe and replenish dry skin, to balance the emotions, to ease negative feelings, to stimulate focus and energize the body, and to calm and cool the body. When patients suffered from a deficiency in their "Yin," which often resulted in problems associated with the mind such as a dissociative state of depression, they were prescribed Vetiver Oil to use in meditation. Although similar applications of Vetiver Essential Oil exist today.